16 march 2021
Competition
Ateliers Jean Nouvel won the International Architecture Design Competition of Shenzhen Opera House with their project "The light of the sea"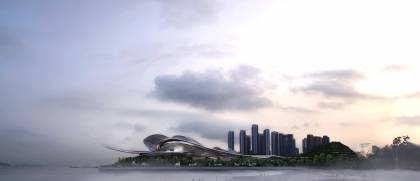 The light of the sea
Shenzhen has always been in harmony with the South China Sea. It used to be a fishing village. Its coastline has always been a promenade, once as popular as it was poetic. The promenade will be enhanced. The arrival of the Opera House will create a long sequence along a coastline that has already been diversified over a stretch more than a kilometre long…
This almost square-shaped precinct, the Opera House neighbourhood, will be part and parcel of the music and the sea on three of its sides. It will be protected by a huge glass hall to substantiate the fact that the Opera House itself and its auditorium belong to the China Sea. The Opera House's auditorium will be visible through the spacious foyer leading to it. On the northern side it will open completely on to the music precinct. This will involve a large loggia opening on to terraces teeming with life, seaside terraces that will evoke the sea, thanks to lying beneath the lights coming from the sea of glass that will house them. The sea will be both around you and over you. This explains more clearly why the main foyer has to be made of a noble, precious and luminous material that spells the meeting of sea and music and light. Mother-of-pearl is a bright and lustrous light-element that looks wet when dry. As such, mother-of-pearl will feature in the Opera House auditorium in an irregular, rhythmic way, highlighting the curve of the balconies or the acoustic geometries of the walls. Using the lustrous white reflections of a nacreous material will be a concrete poeticisation of the meeting of the sea and the auditorium and concert halls of the Opera House. It will be an indication of the diverse uses of the halls and foyers in its rhythmic marking of the different interiors.
At Shenzhen, then, inside as well as out, the twin image of mother-of-pearl shell and wave will open on to the everchanging light of the sea.
Close