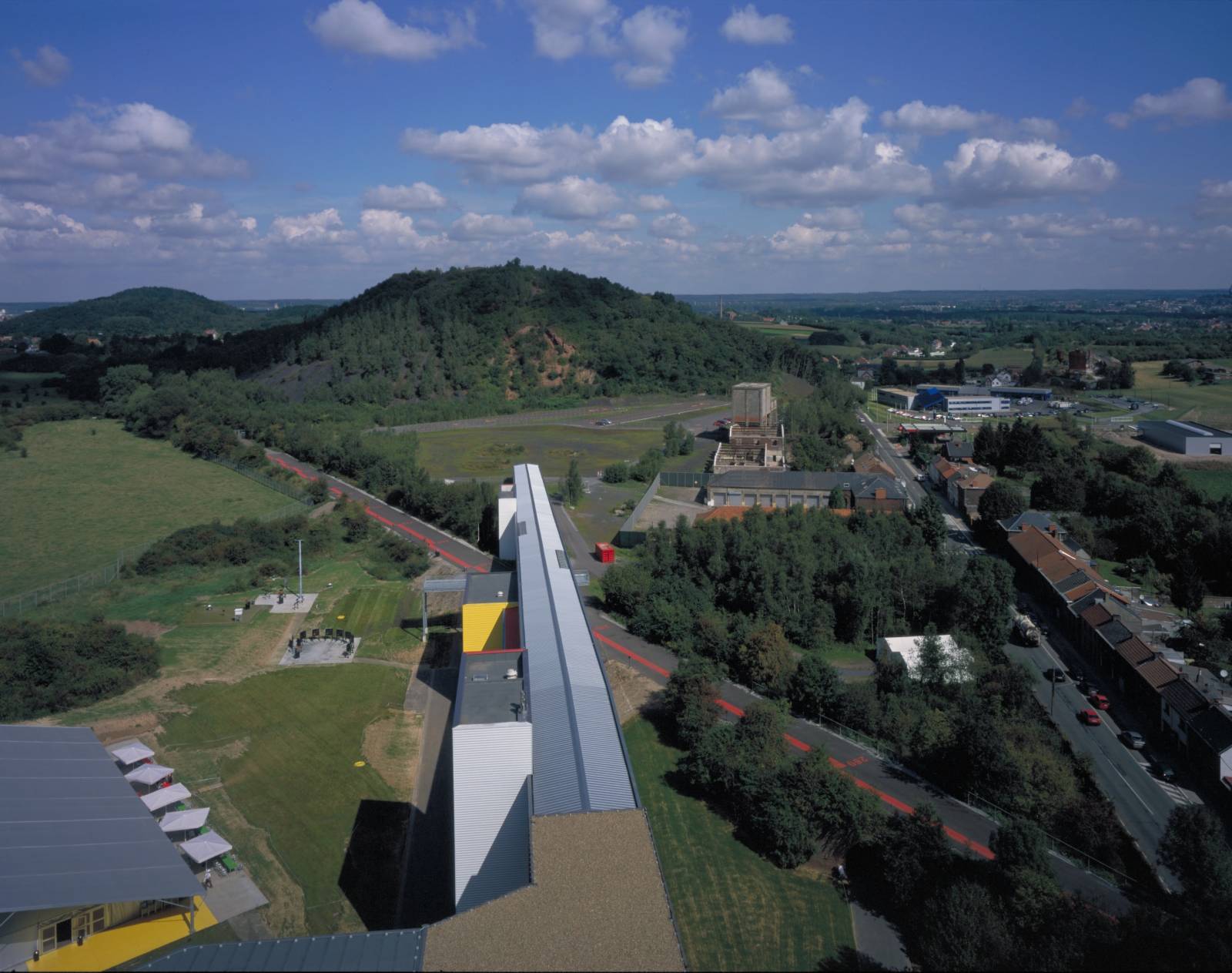 Mons – The Pass (Parc d'Aventures Scientifiques)
The primary conceptual goal is to preserve the force and significance of the historic buildings and architectural elements.
This can only be done by maintaining a clear relationship with a site that's also marked by that same history. The signs are evident all over the site, starting with the slag heap, a small mountain that looks like a ziggurat, with its profile and vegetation built up in stages. Then there are the buildings, which are mostly brick but occasionally concrete, blending into the urban landscape, with the long and noble retaining wall punctuated by oculi.
There's also a tunnel, the remnants of other mineshafts, and a railway line…
The logic behind the way the existing buildings are positioned on the site is industrial – that is, purely functional and economic, within a straightforward esthetic. The new buildings will be positioned in the same spirit, within the logic of the new program, but while also stressing our reading of the beauty and efficiency of the previous system.
The 'Belvédère' is an integral part of the 'Exhibition Hangar'.
With the permanent exhibitions, it's perfectly possible to use the 'Belvédère' spaces, which run from 4 to 8 metres wide and from .5 to 5 metres high, for any displays that require these smaller scales.
The presence of windows at certain points means we can punctuate the looped walkway linking the ensuing spaces together in the 'Machine Room'. The 'Belvédère' also provides access to the lift that goes up to the real belvedere, which sits on top of the headwheel in the pit-head frame. The 'Belvédère' is an amazing space thanks to the way it carves up the landscape with its horizontal bars, which can be used differently depending on the different exhibitions.
The relationship with the landscape is also a vital issue. Poetry arises from the site's abandonment and the passing of time. The slag heap sprouts trees, the rails are slowly overrun by scrub. The cultivated fields stamp their geometry on the fields lying fallow. We need to make use of all this and also to give expression at precise points to a scientifically controlled culture as an indispensable counterpoint, given the nature of the new program. This visible counterpoint will allow us to stick close to the original esthetic on 90% of the site, with the spinoff of reduced investment and maintenance costs.
(…)
Jean NOUVEL