6 november 2019
Jean Nouvel: In my head, in my eye… belonging…
Exhibition at the Power Station of Art, Shanghai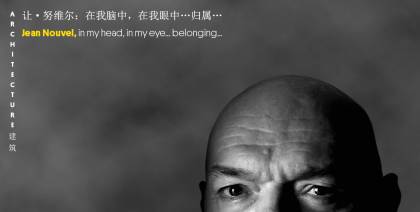 From November 7th, 2019 to March 1st, 2020, the Power Station of Art and the Fonds Jean Nouvel pour le rayonnement de l'architecture contemporaine present, in collaboration with the Fondation Cartier pour l'art contemporain, the first solo exhibition in China of Jean Nouvel.
Rather than a usual architectural display, Jean Nouvel transform the exhibition room into a theater filled with light and shadow for his exhibition titled Jean Nouvel: In my head, in my eye… belonging… It will debut a five-and-a-half-hour film, as well as six works of art called "Emergences" based on his architecture and allowing visitors to immerse themselves in what inspired his design practice, thus entering his thoughts and emotions.
Jean Nouvel often mentions that the roles of architect and film director are similar, and that the process of creating a building is like shooting a movie. Making use of his first exhibition in China, he has achieved his "dream of directing." The film features nearly a 100 construction projects by Jean Nouvel around the world. Through poetic shots, the film is a reflection of his architectural career and shows his concern for the world and life. Originating in his self-consciousness, thoughts, and imagination, he believes that this exhibition will be "a rebellion against orthodoxy."
In addition to the film, the exhibition will present works of art based on six of his representative buildings: The "Culture and Convention Centre – KKL" in Luzern, the projects "Tête Défense" and "Tour Sans Fins", the "Fondation Cartier pour l'art Contemporain" in Paris, the "Galeries Lafayette" department store in Berlin and the "53W53" tower in New York.
As a part of the PSA series "Architecture & City" Exhibitions and Researches, this exhibition will not only present the architect's cultural standing and emotional belonging in a different way, but also showcase how light and shadow magic can illuminate the emotion and power of architecture, opening up multiple approaches to understanding architecture for the audience.
More information here
Close