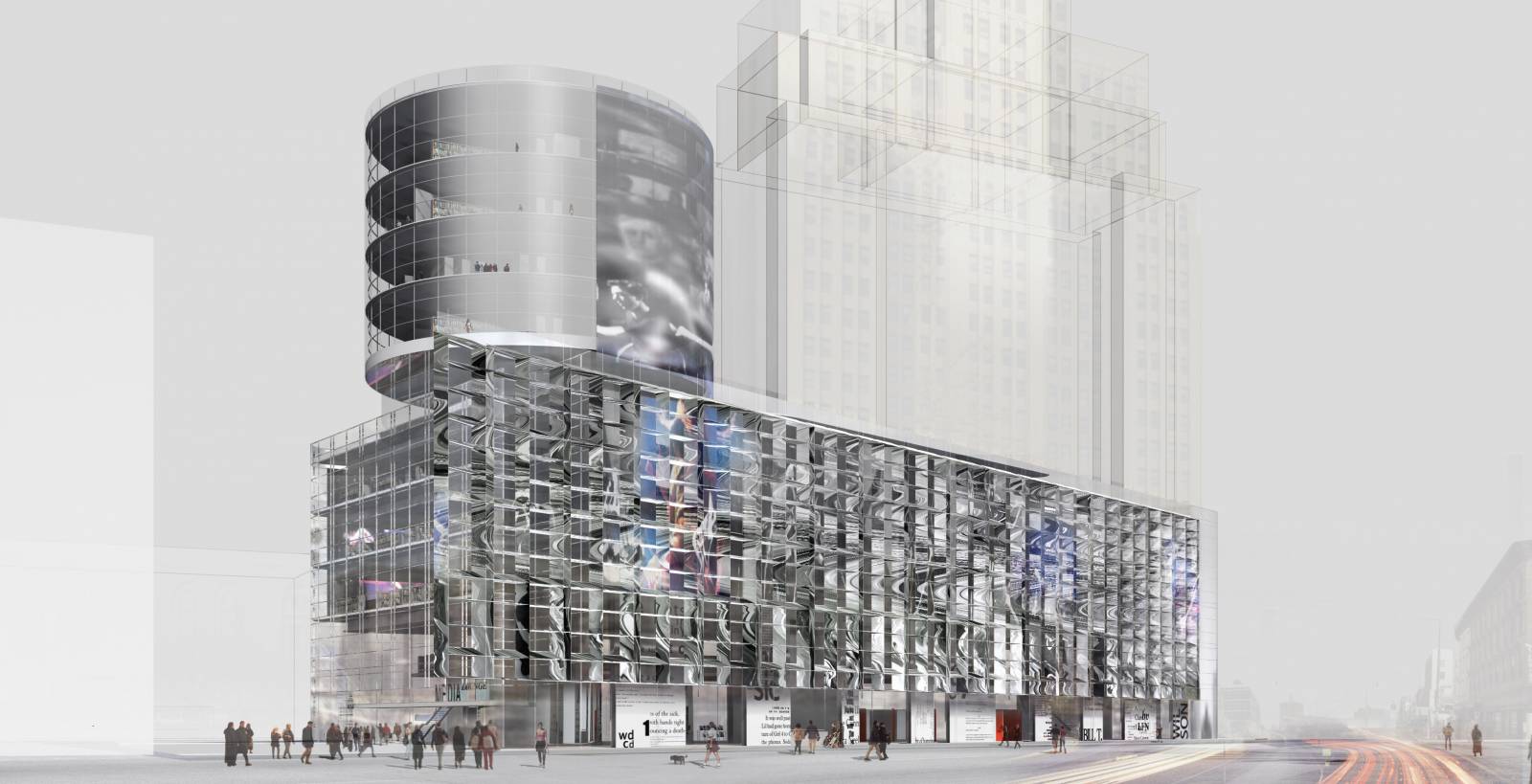 An invitation to hang out with culture
The Fort Greene district of Brooklyn is rapidly becoming a most important cultural development, featuring the Brooklyn Academy of Music, the Mark Morris Dance Center, The Strand Theatre, and further, artists' lofts, studios, workshops, etc. as proposed in a master plan prepared by OMA / Diller + Scofidio. Located on a site at the angle of Lafayette Avenue, Ashland Place and Flatbush Avenue, the Visual and Performing Arts Library will be a cultural figurehead of the district.
The (sharp) angle and the triangle (three sharp angles!) represent to the architect what the triple loop and triple flip are to the ice-skater i.e. risky occasions to lose one's balance…
In order to avoid this indignity, I propose to create a hierarchy of the three facades on Flatbush Avenue, Ashland Place and opposite the future theatre.
The façade on Flatbush is the most visible and symbolic with its prow towards Times Plaza. Looking South-West it is exposed to the strongest sun, hence a big brise-soleil which will diffract sparkles, prolong and multiply images, making it attractive and symbolic of the Brooklyn culture dynamics.
The North façade opens on a small square which makes it the favourite pedestrian entrance, through a plaza shared with a future theatre, and protected from the noise of the avenue by a large sliding glass screen.
The East façade is more understated, the brise-soleil is inside the glass façade, turning it into a game on reflections and depths of view.
As for the prow, it's a simple fold of silvery glass, through which we can perceive graphic themes evoking Brooklyn's art and performance heroes.
This theme of reflective curved glass, haunted by ghosts, is remotely echoed by a cylindrical object emerging on the North side from the terrace atop of the triangular main building.
At street level, the public space passes from one side to the other, a way of providing for an urban and sheltered transparency, punctuated by large images, inhabited by the bookshop and cafeteria. On the South side the large urban hall drops into a foyer for the auditorium.
The space is freed at street level, but also on the library floors and on the rental floor. A 'cyclorama' made out of very light fabric, materialises the limit with the outside. It's a soft filter, and image which imprints the outside skin, and gives nuances to the interior light.
Viewed from the outside, the cultural triangle dazzles with all its lights. The inside is quiet, serene, protected from the sun and noise. Both a place for leisure and work, the building is open and sheltered, it stands as a territory for shared cultures and knowledge: its architecture invites you to participate.
Jean NOUVEL