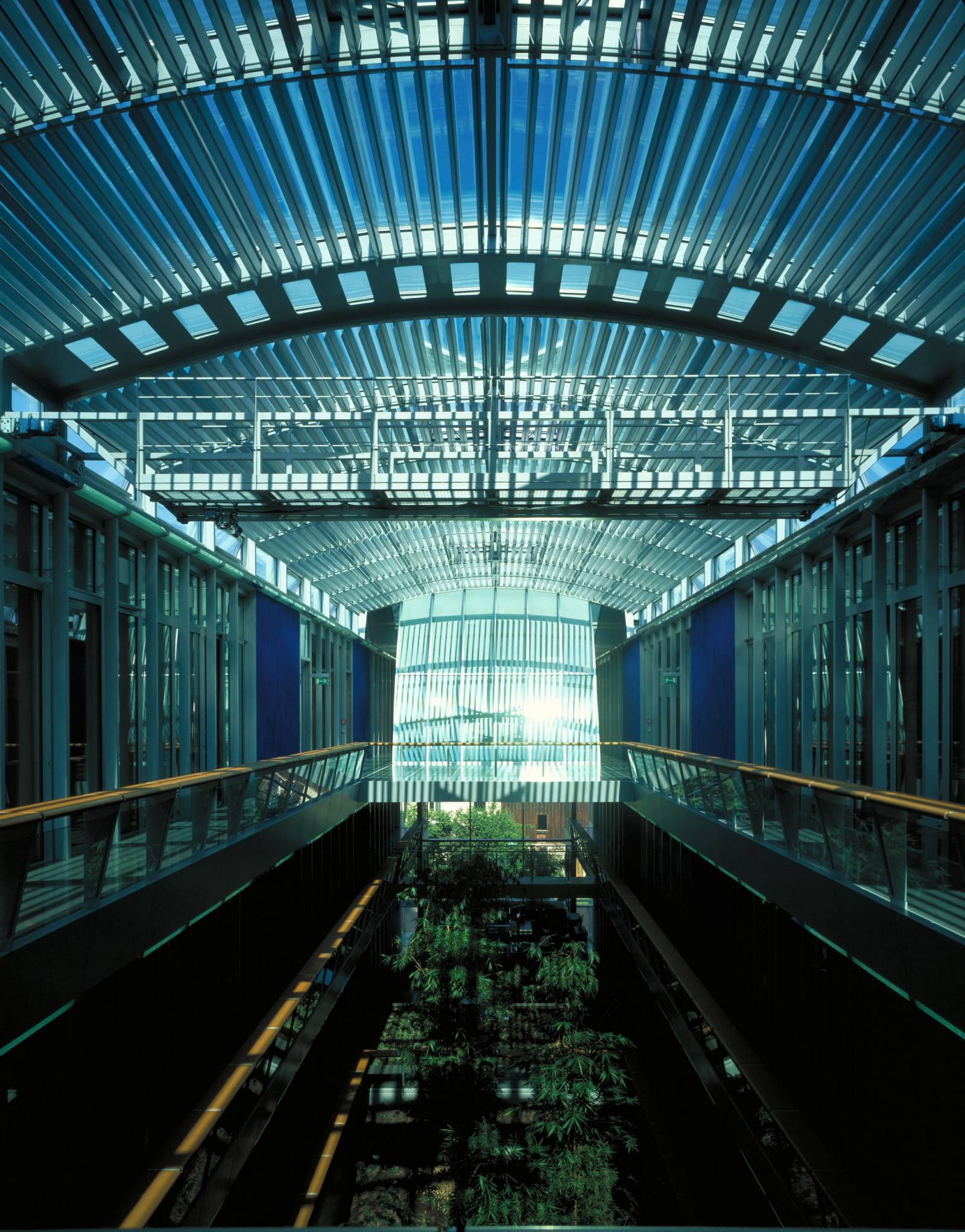 A peaceful everydayness
In the middle of an atypical neighbourhood of Bregenz between a factory, a cemetery, suburban houses and a few small buildings, along a street-road, the question was to build offices for the insurance company Interunfall, other offices to be rented, a few lodgings, a bistro, a shop…  This program ? very urban in its social mix ? would achieve integration by creating a dialogue and meaning with its neighbours.
On the factory side, the industrial courtyard becomes a tiny square with entrances to the lodgings and bistro.  An artist?s-atelier type of apartment is established on a small building opposite, like an echo of the new architectural modernity.
On the cemetery side, the Interrunfall building is calm, horizontal, in flower.  The windows are accompanied by wide window-boxes, little gardens which break the view of the cemetery. From the inside one sees the horizon and the sky.
On the street side, the same window-boxes with a framed-view of the street, and another view through adjustable blinds towards the neighbouring houses.
The building is protected, grey, discrete, cut in two.  A body of vertical building with a fragment of the Interunfall logo on the side-wall and the horizontal rhythms of the sun-shades on the low-building of the Interunfall building.  In silhouette, one can guess at a central glazed roof.
Right from the entrance one is drawn-in by a wide longitudinal atrium populated by bamboo, ficus and ivy.  From the peripheral balconies one sees the office levels by transparency, but also one sees a glazed car-park below, facing the vegetation.
The rhythm of the offices is set-out by sliding storage which create and provoke random transparencies.  The glazed-roof, with its sun-protection device, causes games of light and shadows.
The place is peaceful, silent, green and light, perfectly insulated from temperature differences.
It is simply made for the pleasure of working together, in peace.
Jean Nouvel