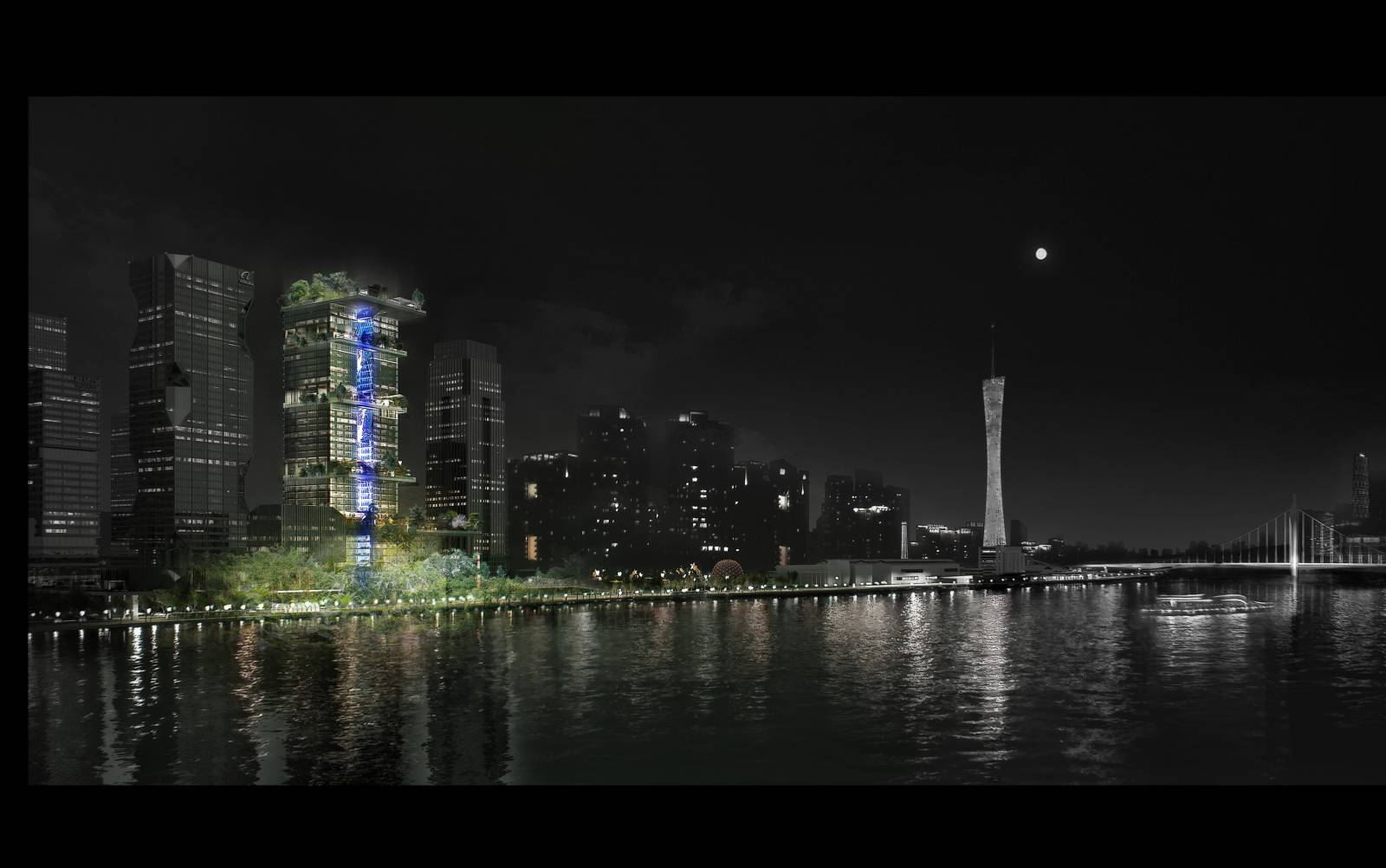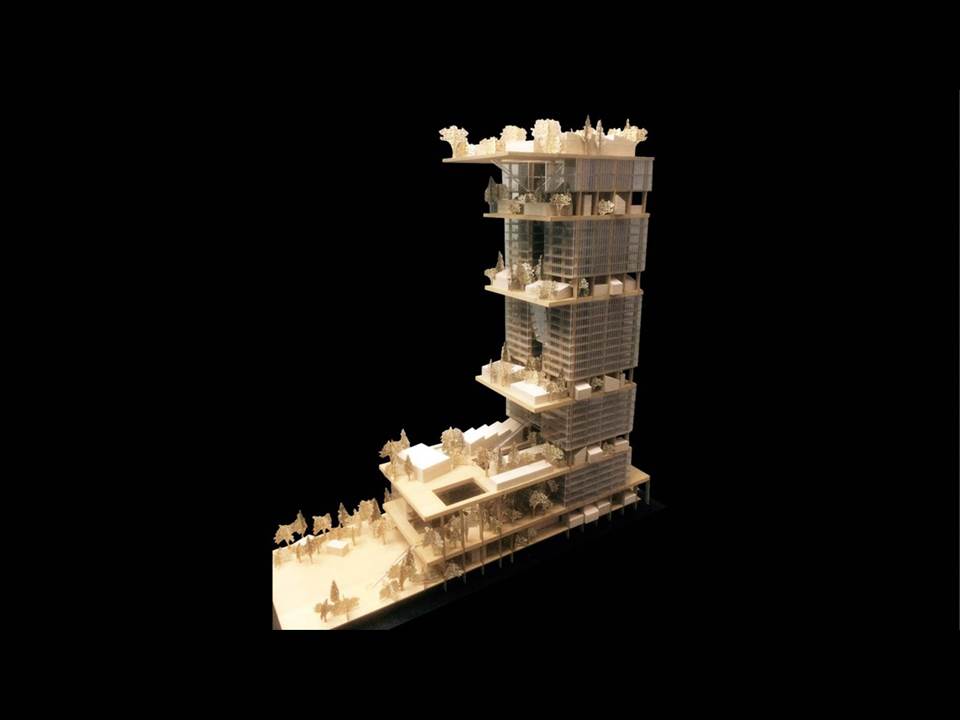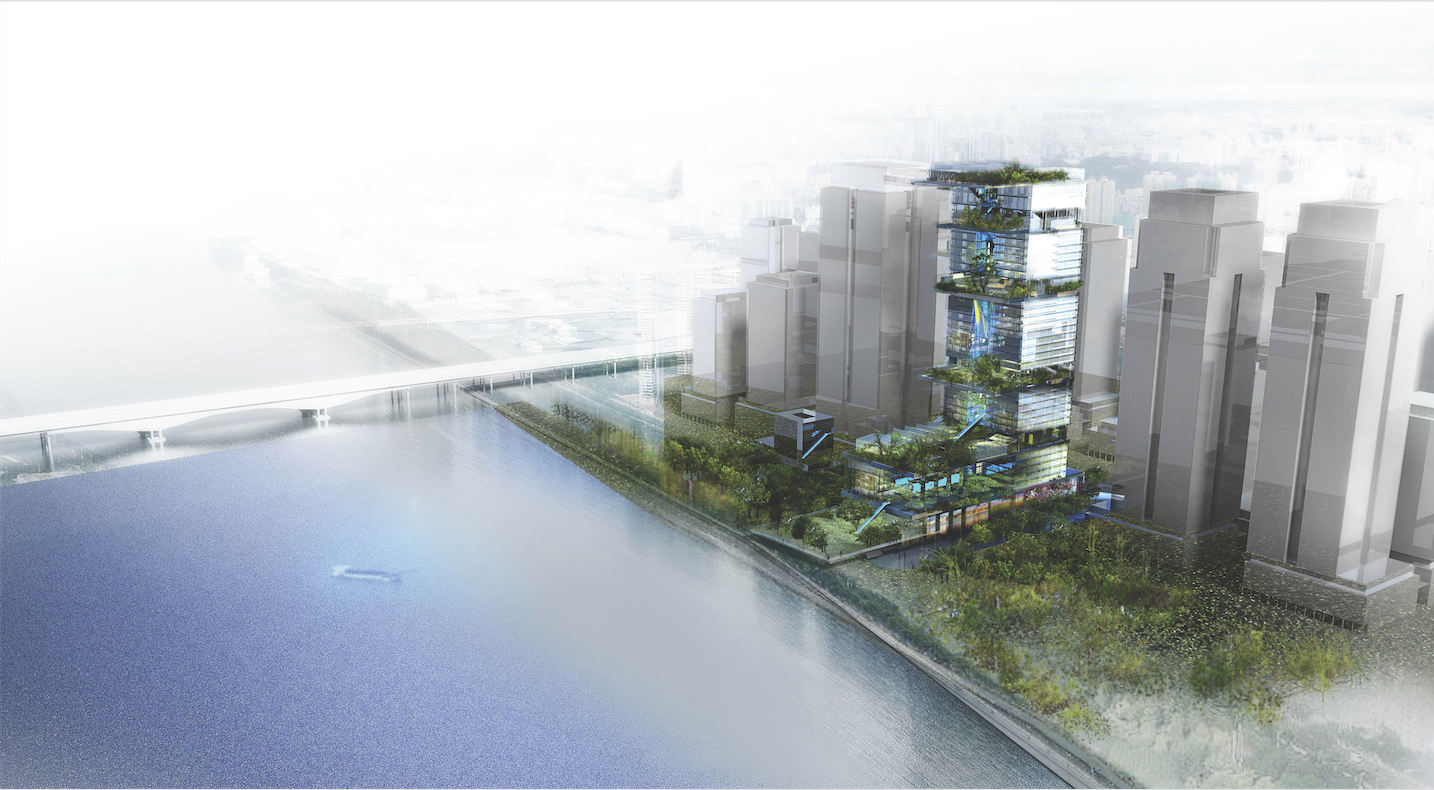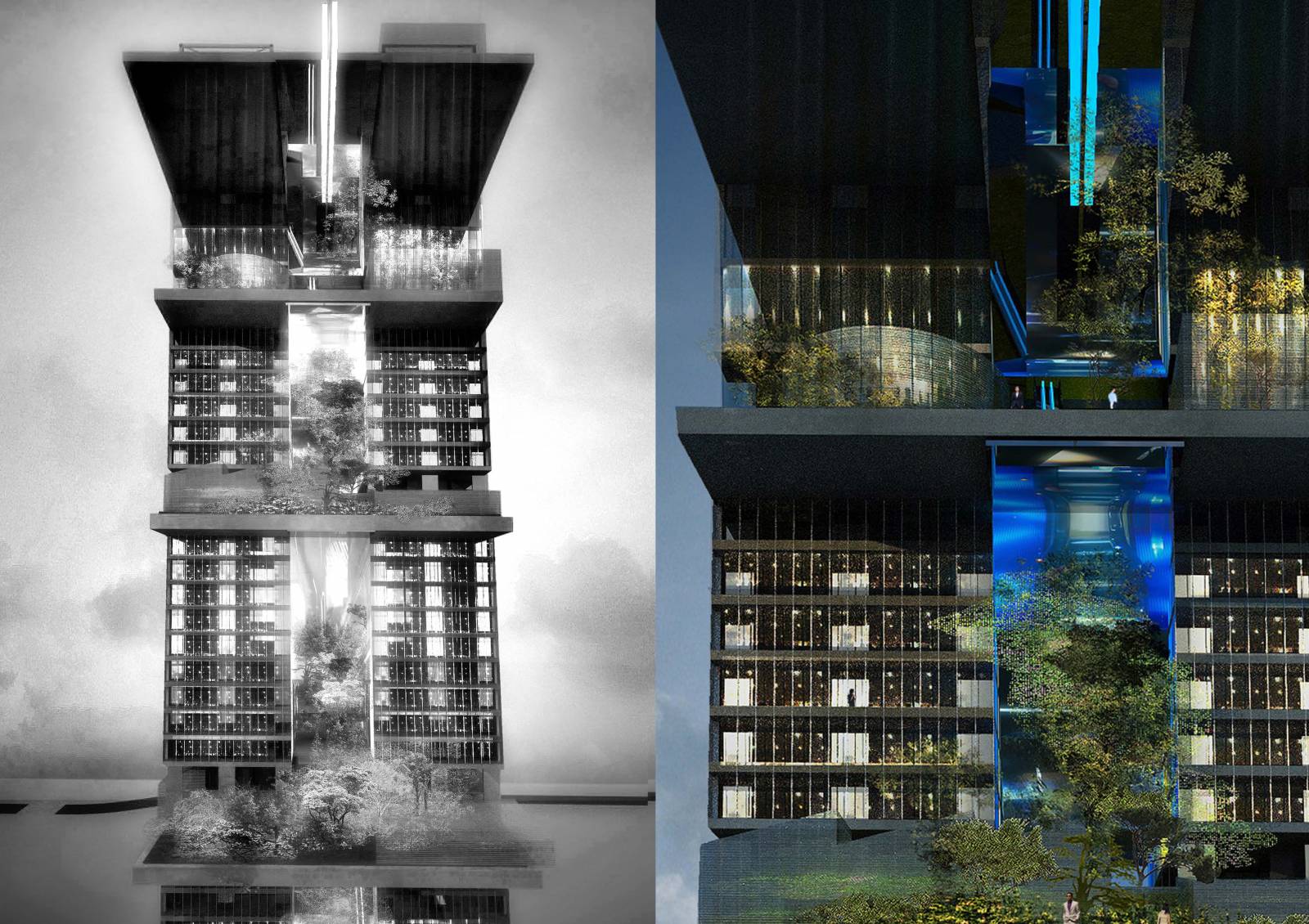 The Tencent Tower on the banks of the Pearl River in Guangzhou is set to become an icon of human life, of social exchange and opening up to the world; it should present an image of the modernity and serenity of an enterprise that's proud of the workplace environment it has striven to create.
To achieve these goals, we've made eight choices that form the basis of the project.
Choice number One: TENCENT TOWER WILL BE URBAN
Friendly and welcoming, Tencent Tower has a mission to enhance Guangzhou,
it aims to impact the neighborhood,
aspires to embellish it;
it's committed to playing its own specific urban role: it wants to turn the axis of symmetry between it and the adjacent tower to the west into a tree-lined strip that's a social hub opening up a perspective on the Pearl River.
To the north, Tencent Tower hopes to bring life to the plaza, which will be surrounded, on both sides of the social hub, by numerous exciting small spaces, bars, restaurants, kiosks…
On its own site, Tencent Tower will accommodate a genuine commercial street, animated by pop-ups, restaurants, museums, cinemas… This street will be connected by escalator to the metro and the plaza and will go all the way to the river so as to better frame the Guangzhou skyline and allow it to be admired.
Choice number two: TENCENT TOWER WILL BE A RIVERSIDE TOWER
We will build a large deck over the Pearl River,
then we will create large terraces for every kind of sporting and leisure activity;
we will also create views over the city and views over the river, and
will incline the tower's façades to capture reflections of the river, with its buoyant life and its boats;
covered escalators will link the recreation terraces cantilevered over the riverbank, creating stunning views and showing the action of the Tencent community as people move around. It will be a twin spectacle, from the inside looking out over the panorama, but also the other way round, with the spectacle of people going up and down inside this vertical city.
Choice number three: TENCENT TOWER WILL BE A LANDSCAPE
Our trees will launch an attack on the Tencent Tower, from their standing position on the large-scale terraces.
This is a soaring landscape, highly readable, rising up from the Pearl River and foregrounding trees and shrubs, with light filtering through the workspaces and recreation spaces.
Choice number four: TENCENT TOWER IS ALL ABOUT INNOVATION
Tencent Tower will invent a new architectural typology that is all about
the joy of being alive and working;
on the large-scale terraces, we will build houses, greenhouses, ateliers,
that will act as so many different villages, stacked on top of each other every ten stories or so.
These small structures will sit on the main reinforced-concrete structure;
in a similar spirit, but on another scale, new systems will be installed in all the offices, new building blocks, office units, storage units, quiet spaces for taking time out that will all use different colours and be configured individually;
this mix, these contrasting scales, will give Tencent Tower a staggered profile and really make it stand out.
Choice number five: TENCENT TOWER WILL BE ECOLOGICAL AND HEDONISTIC
Tencent Tower will evolve in line with an economical logic that will drive the choice of materials and the most efficient technologies, and ensure we opt for repetitive and simple assemblages.
Genuine sustainable architectures are those people take real pleasure in preserving, and so they tend to become models of sustainable development.
Here, Tencent Tower will combine business with pleasure – through its gardens, and through its façades, which will vary according to the optimal orientations for avoiding direct sun, with inclined façades, and glass panels that become more reflective than others, remaining completely clear to the north and over surfaces in the shade.
Choice number six: TENCENT TOWER WILL BE LIGHT-FILLED
The façades will be 100% glass,
wind resistance will be ensured by fully glazed walls,
with the different types of glass revealing the geometries and variations in texture;
natural light and sun screens will create other interplays of geometry;
sunlight, through the trees, will be inspiringly dappled, guaranteeing
the pleasure of living comfortably, naturally,
with artificial light being adapted to the different ambiences and playing on all its shimmering possibilities, using every possible colour, and even streaming figurative images.
Choice number seven: TENCENT TOWER WILL BE VIVID, COLOURFUL, CHANGEABLE
Imagined as a world of sensations and surprises,
different "office types" will use multiple colours and multiple materials, offering, creating, an inner world adapted to each and every individual that varies with the time of day, the different colours of the lights, and the images streamed at night under the undersides of the terraces and over the greenery – a work-in-progress we appeal to Tencent's creatives to share.
Choice number height: TENCENT TOWER WILL BE AN AFFIRMATION OF HUMANISM WITHIN THE VERTICAL CITY
Tencent Tower will pave the way for the Darwinian evolution of digital-industry species.
Jean Nouvel
珠江畔的腾讯广州大厦应成为一座标志性建筑,它是生活、交流、和面向世界开放的标志,它应赋予腾讯以现代、庄重的企业形象,并自豪地展示腾讯创造的工作环境。
为实现这些目标,我们做出八项选择作为方案的基础。
要素一:腾讯大厦是城市的
热情友好,她希望为广州增色、对街区产生积极影响,并保持其自身的城市角色:她希望自己与东侧高楼间的中轴线成为一条绿色景观轴,向珠江方向敞开视线。在南边,腾讯大厦希望使城市广场更加生动,在中轴线两侧将有许多有趣的小商业,酒吧、餐馆、报亭……基地内,腾讯大厦将引入一条真正的商业街,有商店、餐厅、博物馆、电影……。这条商业街将由自动扶梯向下连通地铁、向上连通大广场,并一直延伸到江边,以更好地构成和欣赏广州的天际线。
要素二:腾讯大厦是滨江的
我们将在珠江上建一个大甲板,并为各种体育、娱乐活动设计一系列大平台,还有面向城市和河流的视线。建筑在珠江投下倒影,用微微倾斜的立面捕捉河流的反光,河上的生活和往来的船只。受保护的自动扶梯把面向珠江出挑的活动平台连接起来,平台供人欣赏动人的风景,也将腾讯人的日常活动展现给城市。它构成一种双重景观:从内向外看的全景,和从外向内看的这座垂直城市中向上攀升的运动。
要素三:腾讯大厦是景观的
腾讯大厦内部和大平台上遍植树木。这是一道垂直向上的景观,从珠江看过来,非常引人注目。它以树和灌木构成近景,也为工作和休息空间过滤了阳光。
要素四:腾讯大厦是发明创造
腾讯大厦创造了一种新的建筑类型,为人提供生活和工作的乐趣。在大平台上建造小房子、温室、工作坊,就像各式各样的村落。每隔十几层就有一个这样的村落,这些小房子就放在钢筋混凝土的主体结构上。同样的道理,在另一种尺度下,所有办公室都采用新的系统、建构规则、办公桌、储藏柜,休息空间的颜色和布局也各不相同,这种混合和尺度的对比突出了腾讯大厦的独特性。
要素五:腾讯大厦是生态的、享受的。
腾讯大厦设计所遵从的经济逻辑从选择最高效的材料、技术出发,优先考虑建筑构件的可重复性和简单性。真正的可持续建筑是那些让人愿意保留下来的房子,它们因此才有希望成为可持续发展的典范。在这里,腾讯大厦的花园,和根据朝向不同、经优化设计产生的各不相同的立面都为了使人能非常愉快地使用这座建筑。为避免阳光直射,有的立面微微倾斜,有的玻璃比别的反射度高,北立面和那些处于阴影下的立面则采用全透光玻璃。
要素六:腾讯大厦是明亮的
建筑为100%玻璃立面,全玻璃竖撑保证了立面的抗风稳定性,不同类型的玻璃表现出立面几何形状和材质的变化。自然光下,遮阳构件又形成其它几何游戏,阳光穿过树木的枝叶投下斑驳的光影,让人更舒适自然地生活在建筑中,为不同气氛设计的人工照明通过各种灯光、色彩、投影,与景观相映成趣。
要素七:腾讯大厦是生动、彩色、和变化的
腾讯大厦被构想成一个充满感情和惊喜的世界,一种不同的《办公类型》。各种色彩和材料的运用是为了提供、创造一个适合于每个人的内部世界。随时间的变化,彩色灯光、还有夜间投射在出挑平台底板和植物上的影像,是需要与腾讯的创意团对共同讨论完成的工作。
要素八:腾讯大厦是人文主义在垂直城市的宣言
腾讯大厦将成办公空间进化中的一个里程碑建筑。
让 努维尔